Modern (Mid – 19th Century – Mid – 20th Century) Modern artists ignore careful execution, heroic subject matter, and patronage.
Painters use to mix pigments in their studios. Tube paints provide the freedom to paint out-of-doors. This no fuss no muss ability is revolutionary to the world of painting. It is the catalyst announcing Modern Art, and the passing of the Renaissance era. A distinctive style and a new technique of painting is born. Beginning with Monet, successive paintings in this collection illustrate change and the differences between Modern and Renaissance painters. The London based Winsor-Newton Company invented and manufacture tube paints. This image is of their first tube paints, 1840 - 1911.
Vincent van Gogh (1853 – 1890) is born in the Netherlands. The gifted artist's strange and tragic life story is gut-wrenching. How van Gogh wounds or loses part of his ear is not certain. This is Self-Portrait with a Bandaged Ear.
Unless episodes of epilepsy or his fragile mental health interfere and he needs hospitalization, van Gogh paints non-stop. From Vincent's early twenties, his frantic pace produces more than 2100 works of art in different media and styles, although only one painting is sold in his lifetime.
Consequently, Vincent relies on his younger brother Theo, who is an art dealer, for constant financial and emotional support.
Read Van Gogh's newsy letter and an explanation of his process excerpted from "Van Gogh's Letters," from Vincent to his younger brother Theo, "Etten, September 1881." Drawings are of the village where their father, a Protestant Minister lived. Ettendorf is near the France/ Belgium border.
A self-inflicted gunshot wound ends van Gogh's life. Sad Theo dies six months later and the two are buried next to each other.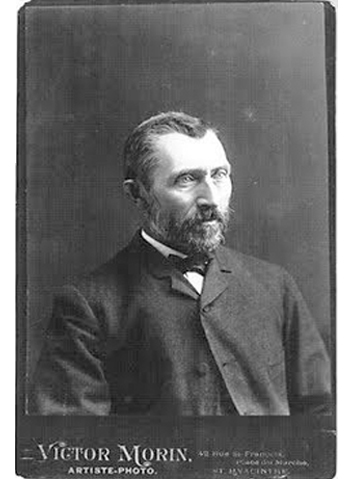 Forensic study completed: photo of Vincent van Gogh,
c. 1886, by artiste-photo Victor Morin.
Collection Joe Baberger
Modern, Post-Impressionist movement (c.1886 – 1914) The Industrial Revolution brings steam power, factories, and railways and then electricity, new chemicals, plastics, and pharmaceuticals, from the recently industrialized nations, Germany and the USA.
Post-Impressionists represent painters who feel limited by the lack of structure Impressionists avoid. In fact, they go without the label until 1910. Each artists' work expresses unique characteristics which may explain why the movement lacks cohesion.
At the Grafton Galleries in London, British artist and critic, Roger Fry titles the exhibit, "Manet and the Post-Impressionists," in response to their request. The exhibit marks a posthumous triumph for van Gogh.
In these side-by-side portraits, Vincent and Theo seem to resemble each other – at least Vincent paints his brother to look alike.
Van Gogh experiments with the Pointillist style of Seurat, but he prefers the emotional Expressionists. Compare van Gogh's work with the traditional forms and style you see in the next painting by Seurat, A Sunday on La Grande Jatte, in the Modern collection.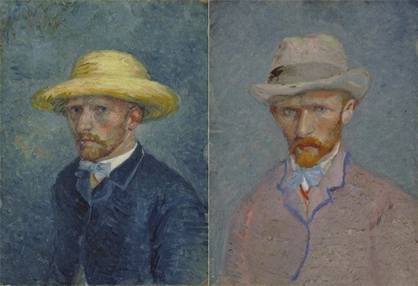 June 21, 2011, Van Gogh Museum, Amsterdam, Netherlands,
says the 1887 painting on the right is actually his brother, Theo.
Go on to Describe, Analyze, Interpret & Conclude. Contact me for help.
Self-Portrait with a Straw Hat (Paris, Winter,1887- 88. Oil on canvas. 16 x 13 in. (41 x 32 cm.) To save a coin, Vincent teaches himself the Impressionist style. He becomes his own model or asks a friend to sit. The reverse side of this painting is an earlier, peasant study.
Toward the end of van Gogh's life, he spends a few years in Paris practicing figure painting. He writes this to his brother Theo: "I deliberately bought a good mirror so if I lack a model I could work from my own likeness."
Zoom in on Van Gogh's jacket. Look closely at the dark line that outlines his collar - cover the line with your hand, look away, then look at the jacket again. The painting does not seem quite the same without this subtle emphasis used to create contrast with the pale collar on the opposite side.
Here you see van Gogh's awareness of Neo-Impressionist technique and color theory. Among his letters to Theo, he describes how hard he is working to master them. Of his many self-portraits, this one shows van Gogh on top of his game and totally in control of his brushstrokes.